A new strain of the Petya ransomware is spreading rapidly over the last 24 hours. The new variant attacked critical infrastructure, airports, pharmaceutical companies, and public transit companies throughout Europe, Asia, and North America. This post will provide a brief overview of the old and new tactics used by the new Petya, and a comprehensive list of recommendations.
[this post was updated on 6/29/2017 with new tips and IOCs]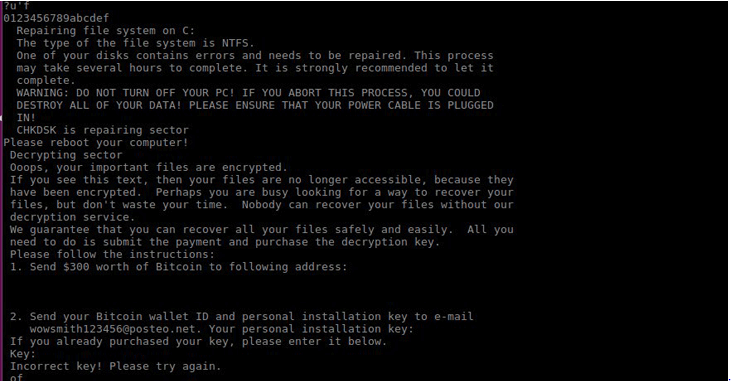 What's Old
The Petya ransomware strain spreads using the exact same MS17-010 SMBv1 vulnerability exploit called EternalBlue, allegedly an NSA hack, which was also used in the recent WannaCry attack.
What's New
While the propagation method was used by WannaCry, Petya is a much more violent form of ransomware. Unlike WannaCry which encrypts the user's hard drive, Petya attacks the MBR – the low-level Master Boot Record and creates its own boot loader.
Petya implements new killer features for lateral movement:
Using the remote administration tool "psexec", which executes it on the remote host:
psexec –accepteula -s -d c:\windows\system32\rundll32.exe "C:\Windows\<filename>\,#1″
Using the Windows Management Instrumentation (WMI) Command-line tool:
c:\windows\system32\wbem\wmic.exe /node:"<node>" /user:"<user>" /password:"<password>" process call create "C:\Windows\System32\rundll32.exe "C:\Windows\<file>\" #1
Another notable difference between Petya and WannaCry is that it initially infects via a malicious Word document. The document is sent as an attachment to a phishing email and exploits a known Office vulnerability: CVE-2017-0199 which enables remote code execution. Once the attachment is opened the malware is downloaded through an embedded link.
Cyberbit EDR and Petya
Customers using Cyberbit Endpoint Detection and Response are protected against Petya. The attack is detected immediately during infection by the EDR's behavioral analysis, as well as during encryption and propagation. According to VirusTotal only 13 vendors identify the new Petya Ransomware strain. It is therefore essential to complement antivirus with an endpoint detection and response solution, which uses behavioral analysis in addition to signature lists and detects attacks which are not identified by antivirus systems.
What you should do
Patch Microsoft Office to prevent infection via Microsoft Word attachments – install the CVE-2017-0199 update to patch Microsoft Office/WordPad Remote Code Execution Vulnerability.
Patch Windows Workstations: if you have not done that after the WannaCry attack install the SMBv1 patch now in order to prevent the attack from spreading.
Disable shutdown via command line: disable the option to use cmd /k shutdown -a. This command is used by the malware to initially shut down the computer, after which the computer will boot from the new malware boot loader.
Don't pay: we do not advise paying the ransom as files are unlikely to be decrypted after you pay
Shut Down: when you suspect that you have been infected, shut down your computer immediately, DO NOT REBOOT, and ask an IT expert for help
Remove admin rights for standard users
Vaccinate: use this vaccination script,  however, use it with caution as vaccines may be detected by security software and blocked.
IOCs: 
Search for these IOCs:
Hashes:
MD5
0df7179693755b810403a972f4466afb
42b2ff216d14c2c8387c8eabfb1ab7d0
71b6a493388e7d0b40c83ce903bc6b04
e285b6ce047015943e685e6638bd837e
e595c02185d8e12be347915865270cca
9B853B8FE232B8DED38355513CFD4F30
CBB9927813FA027AC12D7388720D4771
SHA1
34f917aaba5684fbe56d3c57d48ef2a1aa7cf06d
9717cfdc2d023812dbc84a941674eb23a2a8ef06
38e2855e11e353cedf9a8a4f2f2747f1c5c07fcf
56c03d8e43f50568741704aee482704a4f5005ad
a809a63bc5e31670ff117d838522dec433f74bee
bec678164cedea578a7aff4589018fa41551c27f
d5bf3f100e7dbcc434d7c58ebf64052329a60fc2
aba7aa41057c8a6b184ba5776c20f7e8fc97c657
0ff07caedad54c9b65e5873ac2d81b3126754aac
51eafbb626103765d3aedfd098b94d0e77de1196
078de2dc59ce59f503c63bd61f1ef8353dc7cf5f
7ca37b86f4acc702f108449c391dd2485b5ca18c
2bc182f04b935c7e358ed9c9e6df09ae6af47168
1b83c00143a1bb2bf16b46c01f36d53fb66f82b5
82920a2ad0138a2a8efc744ae5849c6dde6b435d
SHA256
22053C34DCD54A5E3C2C9344AB47349A702B8CFDB5796F876AEE1B075A670926
1FE78C7159DBCB3F59FF8D410BD9191868DEA1B01EE3ECCD82BCC34A416895B5
EEF090314FBEC77B20E2470A8318FC288B2DE19A23D069FE049F0D519D901B95
027cc450ef5f8c5f653329641ec1fed91f694e0d229928963b30f6b0d7d3a745
eae9771e2eeb7ea3c6059485da39e77b8c0c369232f01334954fbac1c186c998
IPs:
95.141.115.108
185.165.29.78
84.200.16.242
111.90.139.247
Emails:
Who Was Infected: 
As of today, these organizations are known to be infected:
For more information on how to remain protected contact info@cyberbit.com